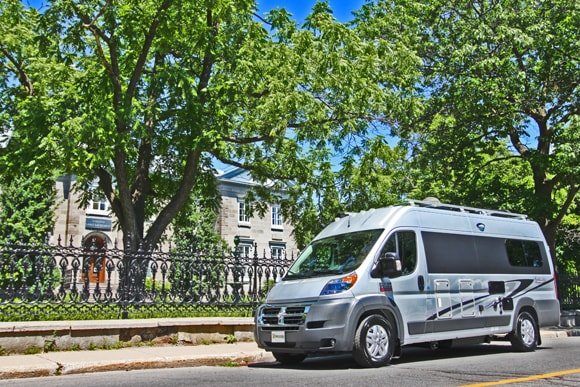 Gala RV welcomes you! For more info, visit www.galarv.com. Visit our new vehicle inventory to know which Montecarlo is currently available for sale.
After over 3 years of research and development, the first Montecarlo were launched in the spring of 2015. Industry experts recognized this product for its extraordinary qualities within its Class B segment. In fact, the Gala RV - Montecarlo especially stands out with its long-term autonomy; it is equipped with multiple equipments that optimizes the use of electricity without being plugged in. Moreover, spacing within the RV was maximized in order to allow for bigger fresh and used water tanks. These improvements give the Gala RV - Montecarlo the title of the most autonomous Class B available on the market.
The inventors also put a lot of effort into style and modern design in this vehicle. At the first sight, we notice the European look of the cabinets as well as their rounded corners. As such, this ergonomic display allows for a better movement within the RV... no sharp corner will wound you! The color palette was judiciously selected in order to give the coach a contemporary and warm look. Moreover, the garments distinguished themselves by their obvious luxury, being the best products in their respective industries : solid-surface countertops, wood cabinetry with strong hinges and drawer bearings, stainless steel appliances, etc. As a matter of fact, everything has been elaborated for a long time in order for you to enjoy your Gala RV - Montecarlo at all times.
Leave for an adventure without neglecting your confort!
Floorplans
Model 1900 - during the day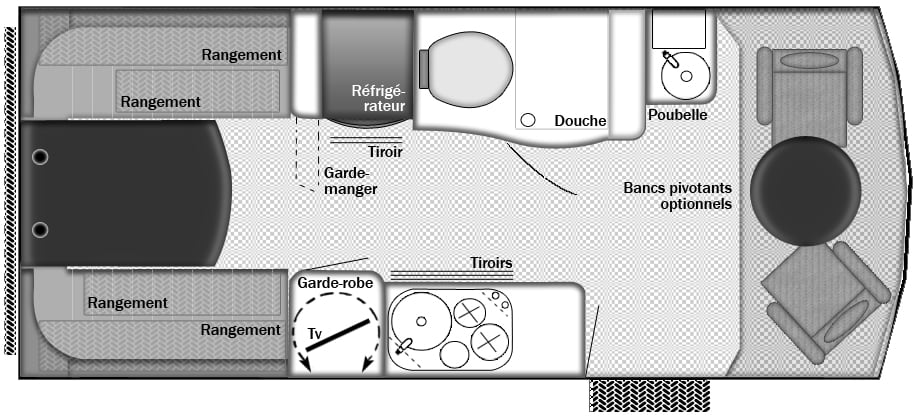 Model1900 - at night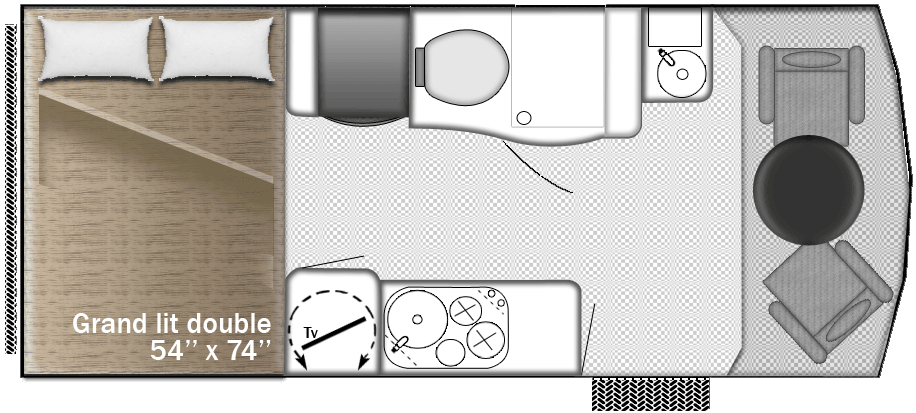 Model 2100 - during the day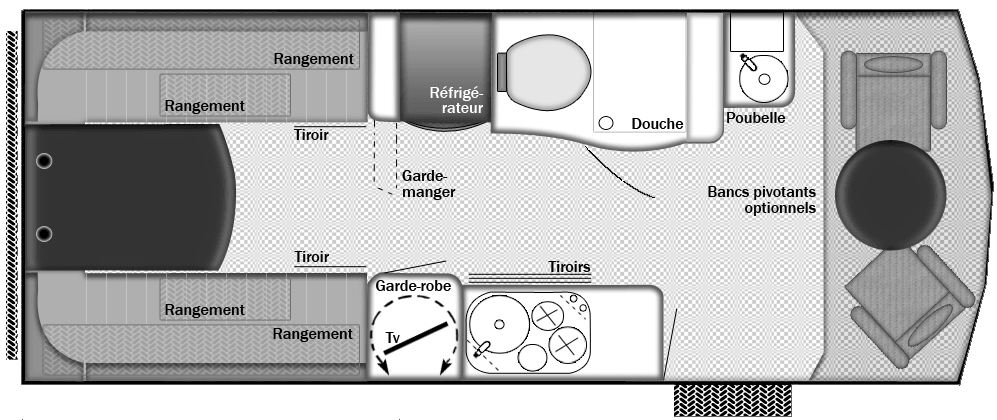 Model 2100 - at night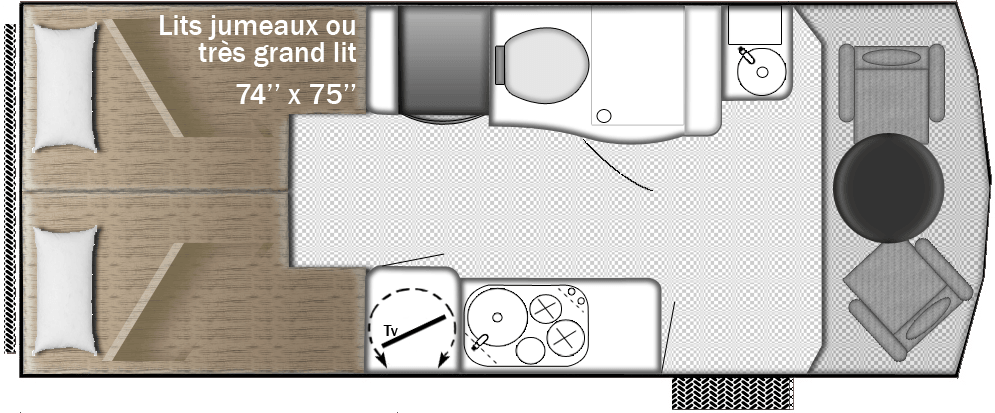 Characteristics
Autonomy for 2 people for more than a week with renewable energy.
Two maintenance-free AGM 6-volt auxiliary batteries.
Use of optimized solar energy with solar panels totaling up to 200 Watts with controller.
Control center: digital voltmeter and ammeter for energy management. These functions let you know at any time how much energy you are spending and accumulating.
2000w pure sine wave inverter.
Marine AC-DC circuit-breaker panel with reverse polarity detector.
Astronomical fresh water and waste water tanks!
Fresh water and gray water tanks each contain 45 gallons U.S. (170 liters), about the double in capacity than other similar vehicles!
The black water tank contains 18 U.S. gallons (68 liters).
Full enclosed bathroom with the largest shower in its category.
Porcelain toilet with toilet rinse.
Shower curtain surrounding the toilet for optimized shower use.
Outside shower.
Independent vanity with sink, storage and mirror.
State-of-the-art household appliances and equipment.
5 cu. ft. refrigerator (141 liters) operating at 110 volts, 12 volts, and propane with stainless steel door.
Propane-operated stove, with 2 built-in burners and a stainless steel sink.
Built-in microwave oven with stainless steel surface.
Silent furnace 14,300 BTU, propane and electric, with 4 exit zones, including one inside the bathroom.
Propane and electric water heater with electronic ignition.
19'' high-definition 12-volt LED television with swivel bracket and DVD player.
High-definition television antenna and signal amplifier built into the roof.
AM / FM / CD multimedia center with front and rear speakers.
Fantastic fan 12-volt with variable speed, with roof lid.
Air conditioning on roof 11'000 BTU.
Level indicator (fresh water, gray water, black water, batteries).
Water heater derivation for simplified winterization.
All-in-one drain and winterization.
Manual awning (optional).
20 LB interchangeable propane tank (sufficient space to install a 30 LB tank).
Robust electric front step.
Comfortable and luxurious amenities
Low-consumption LED lighting with dimmer.
Optimized storage space, calculated precisely for the most used personal effects.
European style cabinets with rounded corners and automatic locks.
Cabinets in light plywood without particle wood, very resistant to moisture.
Invisible hinges.
Solid surface molded fiberglass countertops with gloss finish.
Stainless steel appliances.
Electric dinette that easily converts into a "zero-effort" bed.
Premium seating and cushion mattresses.
Two single beds or King bed.
Very large pantry.
Day and night blinds.
Front bistro table with removable post and swivel seats.
Removable mosquito nets for rear and side doors.
12-volt outdoor LED lights on patio side and service bay side.
Electrical sockets 110 volts.
Rear ladder (optional).
Storage for everything you need.
External storage compartment for electric wire and water hose.
Specific compartment designed to house a sewer pipe (gasoline model only).
Storage spaces for chairs, table, bbq, golf bags, fishing rods, and more (accessories not included).
Safety deposit box.
Outdoor bike rack (optional).
Indoor bike rack (optional).
Kayak support (optional).
Luggage rack (optional).
Picture gallery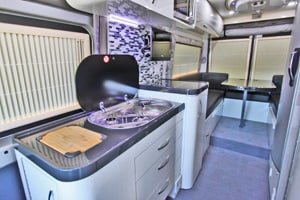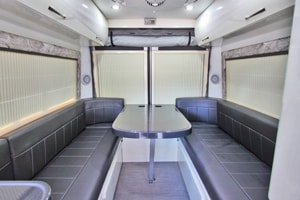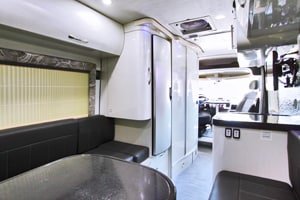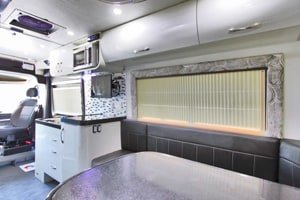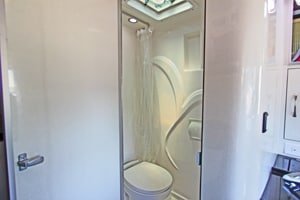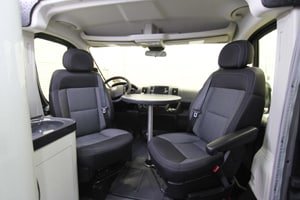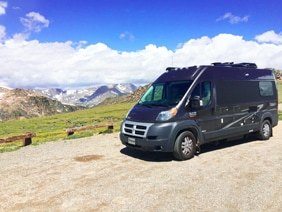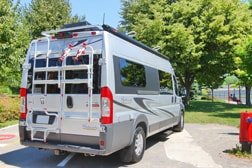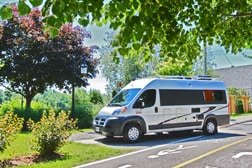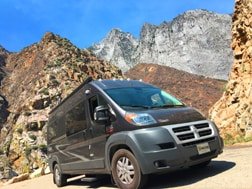 Specifications
Length
248"
Width
83"
Height Out.
114"
Height In.
75"
Wheelbase
159"
Potable water
45GA L/170 L
Gray Water
45 GAL/170 L
Black water
18 GAL/68 L
Essence
23 GAL/90 L
Propane
20 LB Removable
Engine
3.6 L V6
Frame Ram promaster
Towing
3,200 LB
Wheels
16"
Electricity
30 Amps
Heating
12,000 BTU
Air Conditioning
11,000 BTU
Water heater
6 GAL/23 L